My Inspiration: My War Room (A Prayer Closet)
Hello lovely people,
Today I have a different kind of post but it is one I have always wanted to share for a long time and my inspiration for this was the movie
"War Room".
War room is a very inspirational faith based movie about the power of prayer.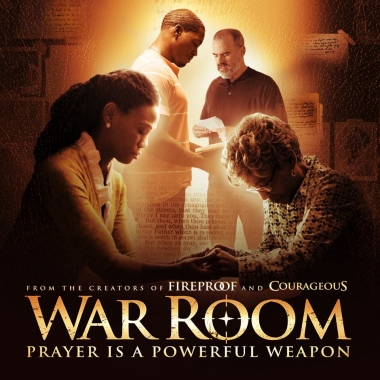 This movie was released in theatres in August of last year in the US but it was not allowed in the UK theatres so I had to wait a while before I could watch it.
I had high expectations for this movie and I have to say that I was not disappointed at all.
War Room follows the story of Elizabeth (who works as a real estate agent) and Tony Jordan- a married couple with a daughter. Their marriage is not in a very good place and is heading in the direction of a divorce when Elizabeth crosses paths with an elderly widow- Miss Clara. She is trying to help Miss Clara sell her house when Miss Clara introduces Elizabeth to what she called her "war room" and where she does her fighting.
Miss Clara's war room used to be a closet which she cleared out and she stuck little notes on the wall which were filled with all her thoughts and worries and things she wanted to talk to God about. She opens Elizabeth's eyes to see that instead of giving up on her marriage, she had to declare war on the real enemy by fighting on her knees and putting everything to God in prayer.
This movie taught me so many lesson and it also changed my perception on prayer. I am so glad I watched it because I was greatly inspired to create my very own war room.
Unlike Miss Clara's war room, I didn't have a big closet so I just used a little corner in my uni room. This corner is where I kept my fan and the bag for my dirty laundry.
After moving all the stuff out of the way I had a nice little corner which was exactly what I wanted. On the wall, I stuck some prayer requests which always prompted me to keep praying,
Before praying most of the time, I would do my devotions and write in my
faith/prayer journal
first. This always got me into the spirit of worship and made it easier to get into prayer.
I will do a post soon about how I study my bible as that is something else that I have always wanted to share but just haven't had the time to write a post for it.
These are the lyrics to the song
Hidden
by United Pursuit and they are stuck on my wall to remind me that life is a battle and we can only fight best on our knees.
We can't leave Jesus out of the equation and expect things to turn out good and perfect for us. The only reason we are in a mess in the first place is because we refuse to accept the fact that Jesus is the reason and instead of turning away from the world and going back to Him, we reject him even more.
It is very obvious that there is a lot of evil and suffering in the world right now but the battle we are fighting is not against flesh and blood. We are fighting against principalities and powers of this dark world and against the spiritual forces of evil in the heavenly realms. (Ephesians 6:12)
So fight the battle using the most powerful weapon at your disposal which is prayer.
Pray for your families.
Pray for your friends.
Pray for your loved ones.
Pray for safety and protection.
Pray for your education.
Pray for your marriage.
Pray for mercy.
Above all, pray for peace in our hearts.
Not the kind of peace that the world gives.
But the eternal peace that transcends all understanding.
The kind of peace that comes God- our Jehovah Shalom.
2 Chronicles 7:14

King James Version (KJV)
14

If my people, which are called by my name, shall humble themselves, and pray, and seek my face, and turn from their wicked ways; then will I hear from heaven, and will forgive their sin, and will heal their land.
Have you guys ever watched the movie War Room?
If so, what did you think of it?
What do you think about having a war room?
Please do leave a comment below.
Thanks for stopping by.
God bless.